All About Spelling Honest Review: Why I Threw Out the Spelling Lists
Are you looking for the best spelling curriculum for homeschoolers?
I have been on the same hunt!
It took me three tries, but I finally purchased a curriculum that truly works.
We are nearly done with All About Spelling 2 and I have already purchased All About Spelling 3 for next year!
This is a full, thorough, and super honest All About Spelling review and I know it will answer every question you have and give you all the information you need to make an informed decision for your kids and your homeschool!
I was failing to teach spelling but didn't know it…
My first year of teaching spelling in my homeschool went perfectly…or so I thought.
We were using a highly recommended spelling curriculum that I felt good about.
My daughter was consistently acing her spelling test every Friday and we were sailing through the year with no issues.
If you had asked me that year how spelling was going, I would have said, "Awesome! She's a super star speller!"
As we progressed into the next year and my daughter started doing more of her own writing – not copywork – problems started to pop up.
She kept asking me how to spell words and got very frustrated when I told her to try and sound it out.
She would also ask for help with words that she had spelled correctly on a spelling test weeks before.
And even weirder, she would often have all the letters for the word, but 2 of them would be flipped. For example, she would write "gril" instead of "girl."
I seriously considered that she might be dyslexic, but she didn't have any issues with reading – in fact, she was reading well above grade level.
What in the world was going on?!
Why Spelling Lists Don't Work For Some Kids
The spelling curriculum we had been using (like most spelling curriculums) was essentially teaching my daughter to memorize letters in order.
Sort of like a letter picture, if you will.
She would dutifully do the worksheets, practice writing the 10-15 words of the week, memorize them, ace the test on Friday…and then forget most of them 1-3 weeks later.
If she didn't totally forget them, she would be a little shaky about what order the letters were supposed to go in.
And what happens when she has to write a word that wasn't on a spelling list?!
The fact that so many of us teach our kids to spell this way is fascinating, especially considering most homeschoolers feel passionately about teaching our kids to read using phonics and not sight words.
We wouldn't dream of asking our kid to memorize words in order to read them…but that's fine for spelling?
Why I Switched to All About Spelling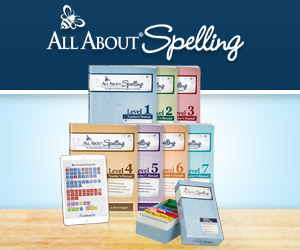 As I started looking for the best spelling curriculum for homeschoolers, I stumbled onto All About Spelling.
I had already used All About Reading for my younger child, so I knew it would be high quality.
What sold me was the insane idea that you could throw out the spelling lists!
No stressful spelling tests.
No busywork spelling word searches.
No waste of time fill in the blank worksheets.
All About Spelling uses a multi sensory approach to teach kids the HOW and WHY of spelling.
It gives kids the keys to spell any word – not just memorize the words on a weekly list.
Exactly How All About Spelling Works
I am going to walk you through a typical lesson and show you exactly what it looks like and how I teach All About Spelling in my homeschool.
Here is the first page of Step (or lesson) 9 in All About Spelling Book 2:
1. All lessons start with a concept review to make sure the child is retaining concepts.
As you can see in the above page, your child will be reviewing the /kw/ sound and how to spell it in multiple words that you dictate.
I like this review time because it seems to "warm" my child up before she learns new material.
She gets some confidence from doing something she has already mastered, before diving into something new.
2. Your child learns a new teaching.
Note that I said a new teaching – not a new spelling list.
This is one of my favorite teachings because it teaches when you should use the C or K for the /k/ sound.
Who knew there were actually rules for that?!
I always thought it was just the English language being random, to be honest with you.
You will notice that there are quotes telling you exactly what to say to your child.
3. Letter tiles are used for spelling practice
Magnetic letter tiles come with the curriculum and are a huge piece of what makes All About Spelling special.
Your child has to methodically sound out, find the letter tile, and pull it down to spell out a word – the multisensory approach!
This is particularly helpful for children who hate writing. Their hands can have a break during spelling!
It also slows kids down who misspell in haste.
Halfway through the lesson though, students are encouraged to use pencil and paper for spelling once the concept has been mastered.
4. There are 10 words for practicing the new skill
After your child has mastered the new spelling skill, there are 10 words in the lesson to help your child practice the new skill.
This is not a spelling list or spelling test.
It is just 10 words to help demonstrate the concept and see if your child understands it. There is no pressure for my child when we go through them.
Once she can spell them easily with letter tiles, she then uses pencil and paper to spell them again.
5. Reinforcement Words
Every lesson has "reinforcement words." These groups of words vary in size but are meant to give more practice.
Sometimes we practice every word, and sometimes we don't if I feel my daughter already has a strong grasp on the spelling concept.
6. Dictate Phrases and Sentences
This is the last part of every lesson.
I love that it is a constant review of previous concepts and helps me catch things she may have forgotten.
****Keep in mind, this lesson is supposed to be taught over the span of a week – not one day!
What I Love About All About Spelling
1. It teaches a method, not memorization
Using All About Spelling has given my child so much more confidence in spelling.
She has learned how to break words down into syllables, sound them out, and spell them using the rules of phonics.
2. There is no busywork
Every lesson has purpose and makes you feel like you have accomplished something.
It is very different than just doing a worksheet and hoping for the best on Friday's test.
3. No spelling tests
Spelling tests can be stressful for mom and homeschooler.
I love that we no longer have to worry about that!
4. Constant Review
As I said, my kid can memorize very well but can forget just as quickly.
The constant review built in is wonderful to make sure the student is retaining information.
Our old spelling curriculum had quarterly review spelling tests which were overwhelming to my kid, mostly because she had already forgotten a lot of the words.
5. Improved Writing
My child used to HATE writing. I realized that the tears had a lot to do with the fact that she was frustrated with spelling.
There were thoughts in her head, but she didn't have the confidence that she could spell them out on paper. She would feel stuck.
Since starting All About Spelling, my child has started doing her creative writing assignments independently.
I was shocked!
She used to need me with her every second. Now she writes a quality paragraph by herself and it's no big deal.
6. Lessons are self paced and customizable
There is a lot of freedom in how you go through a lesson. You can take as long as you need to or as little!
We have been able to go through Levels 1 and 2 in about 6 months.
Lessons typically take us 10-20 minutes depending on which part of the lesson we are in.
7. Non-consumable
What does that mean?
It means that I can pass this curriculum on to my younger children and not have to purchase any new workbooks, worksheets, etc.
Non-consumable curriculum is a huge savings for homeschooling families.
What I Don't Love About All About Spelling
There is no perfect curriculum, so I always mention in my reviews what I wish was different.
When it comes to All About Spelling, I only have one thing on this list:
1. The magnetic letter tiles
The little magnetic letter tiles were almost a deal breaker for me.
There are about 1,000 (I'm exaggerating a bit) of them, they take forever to set up before a lesson, they would easily go missing, and when I needed a new phonogram (such as /ar/) for a lesson, I could never find it.
The curriculum is phenomenal though, so I am very happy that there is a genius solution.
All About Spelling now offers an app that has its tiles on it!
You just plug in the level and lesson you are on, and the appropriate tiles automatically appear.
If you hold down the tile, it will also make the sound of the phonogram!
And the best part…
The app can also be used for working with All About Reading letter tiles!
My 6 year old loves sounding out her words with this app…and no more distracting magnets floating around the house!
****The app only works on tablets, not phones. The reason is that the tiles would be way too small on a phone to use adequately. I have an inexpensive Kindle Fire and I was able to download the app and use it with no problem.
When Should My Child Start All About Spelling?
I had this same question too.
I can't imagine teaching a child to spell if they don't know how to read solidly.
For that reason, we did not start a spelling curriculum with my daughter until she was in 2nd grade.
All About Spelling actually posted a great article explaining why kids should read first. You can check that out here.
What Level Should My Child Start at in All About Spelling?
As I said, my daughter tried 2 spelling curriculums before we found All About Spelling.
She was already in 3rd grade…did she really need to start at Level 1?
Yes.
I am so glad we listened to the advice of others and started at level 1.
Level 1 lays the groundwork for the specific method of breaking down and sounding out words.
My daughter loved how easy spelling was and her confidence soared!
We have been able to work through Level 1 and almost all of Level 2 in about half a school year.
Hopefully next year we will complete Level 3 and Level 4 and she will be completely caught up to grade level.
Either way, she is undoubtedly a better and more confident speller than before we started All About Spelling.
If you are still unsure, you can always have your child take the All About Spelling Placement Test HERE.
What did my kid think about All About Spelling?
Moms may like a curriculum, but the comments of kids can be much more telling.
Below is a short and completely uncoached interview with my daughter:
Me: What do you like about it?
3rd Grader: I like writing the sentences and phrases because I just like doing that. I also really liked using the tablet to spell the words with tiles. It was really fun to practice that way.
Me: What do you not like about it?
3rd Grader: I didn't like using the tiles on the whiteboard because we kept losing them and sometimes they would fall off the board.
That was about all I could get out of her 🙂
Addressing comments I have heard about All About Spelling
I want to quickly address some of the negative things I read before I bought this curriculum.
The biggest complaint I heard was that it was too teacher intensive and took too much time during the day.
As a homeschooling mom of three kids, that was kind of scary to read.
I decided to take the plunge anyway, and I want to share that I disagree with this assessment.
It is correct that mom has to teach this – there is no way for your child to do it independently.
It is also correct that this will take more time than just handing your kid a spelling worksheet with a word search on it.
But, lessons do not require any prep (especially if you use the app for your letter tiles).
The lessons are also as long or as short as you want them to be. I break mine down so that they are only 10-20 minutes long.
To me, that is more than a reasonable amount of daily time investment. Especially considering how important spelling is and the results that All About Spelling produces.
Recap All About Spelling Review

Being able to communicate clearly with words is the foundation of a quality education.
Confidence in spelling is obviously a huge piece of that.
I hope this All About Spelling review has answered all your questions and helped you decide how you want to teach spelling to your child.
If you have any more questions or thoughts, be sure to drop them in the comments section below!
Want to make sure you share all this for later? Got you covered! Just pin it to your favorite Pinterest Board and share it with your friends and followers!
Read Next: