Pre K Homeschool Curriculum Picks!
Looking for some top notch pre-K homeschool curriculum?
I have been receiving questions about all things pre-K, so I decided that I needed to get a list of my pre-K homeschool curriculum recommendations out there!
I am all about simple, fun, and manageable with my own 4-year-old.
You can be sure that all of my recommendations are going to be things that you can handle and your kids will love!
In fact, I think that your kids are going to be begging for more school at the end of the day.
I am dead serious, Homeschool Mama.
I have seen it with my own eyes.
Before we dive into my top pre-K homeschool curriculum picks, I want to address some questions about pre-K that I think you really want to be answered.
What Subjects Does a Pre K Homeschool Curriculum Need?
Bible

Handwriting

Reading

Math

Science

Art

Music
How Long Does It take to Teach Pre K Homeschool Curriculum?
I would recommend shooting for one hour per day.
Yep.
One hour per day will be more than enough.
I know that sounds too short, but the homeschool setting is much different than the traditional school setting with 25 kids in a classroom.
You can get a lot more done when you're working one on one with a student.
You may look at the subjects below and think it'll be impossible to get them all done in an hour – and you'd be right!
I would recommend you do 2-3 subjects per day in a rotating schedule.
Every day will be new and fresh and your kid will be excited to find out what's next!
Pre K Homeschool Curriculum Picks
1. Bible: Gospel Storybook Bible
I love that homeschooling creates an opportunity to consistently start our day in God's Word.
We have done several devotional books, and I have not found one I didn't like!
The Veggie Tales Devotionals are short and sweet and offer a life application for scripture that is appropriate for young kids.
The Gospel Storybook Bible is what we are currently using. It offers a wonderful way to teach Biblical history as it covers many Bible stories that most children's Bible's pass over. This devotional book also makes a point to point kids to Jesus at the end of every story.
I never realized before how many of the Old Testament stories have foreshadowed the coming of Jesus!
As an added plus, it has beautiful illustrations and three questions at the end of every story. These questions have been great for me to tell what my kids have learned and to continue the discussion before we pray.
I would also recommend this wonderful preschool Bible. My 4-year-old got one for Easter and she loves the stories and pictures!
I love that the readings are short and hold her attention so well.
2. Handwriting: Handwriting Without Tears My First School Book
Being able to write your name is one of the things kindergarten kids are expected to know how to do. But how can they do that if they don't know how to write their letters yet?!
I have bought this handwriting book for 2 of my kids and absolutely love it.
It has a very creative and fun way to introduce the concept of writing letters and numbers. The book starts with coloring and simple tracing of pictures and then gently starts the process of writing letters.
The unique way this handwriting curriculum is laid out makes kids not even realize they are learning!
My kids have always wanted to do more than the pages I have assigned for the day – a good sign to this homeschool mom!
3. Reading: All About Reading Pre-Reading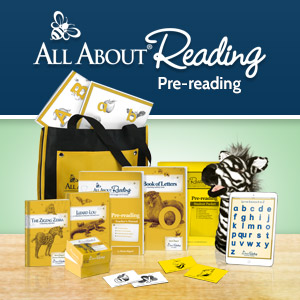 I cannot say enough about this pre-reading program! It is the center of our pre-k homeschool curriculum.
I actually just bought it again for my youngest child and jumped right into the lessons the day after it arrived in the mail!
I love it because it is very gentle and fun – my older kids were begging to join in!
The letter of the day projects are simple, manageable and so cute! They also only require very simple things I have around the house (washable paint, toothpicks, googly eyes, etc.). It's too easy for me to get the letter craft ready to go, but my kid thinks it is awesome!
Other highlights of the curriculum would be the huge letter posters that are included, Ziggy the talking zebra puppet "helps" teach many of the lessons, the daily poetry readings are silly and fun, and my kid loves putting a sticker on the included chart to track her progress through the lessons!
Most importantly though, this pre-K curriculum truly offers a solid foundation to start reading lessons. I know my kids are in good hands and on the right track with All About Reading.
4. Math
It is difficult to find a reputable homeschool math curriculum that offers a preschool or pre-k math curriculum.
I think that is because so much of the Pre-K level math skills can be taught in daily life without you even realizing it is happening (i.e. colors, shapes, counting).
Kindergarten is where your child will start taking those basic skills to the next level.
If you want to work on these skills in a more structured manner, I would recommend picking up simple workbooks at Dollar Tree, Walmart, or a grocery store.
We really like this Pre K Math dry erase book! Don't forget to get washable dry erase markers!
I would also pick up some solid manipulatives and use them for all counting practice. Math is very abstract to kids at this age, so it is extremely helpful to add manipulatives to make it more concrete.
5. Science: Outside Exploration Kit
Kids this age should be outside! Make science their favorite subject by going outside and just exploring the fascinating things around them!
This kit is a great way to get them excited to be mini scientists and explorers in their own backyard.
They can find insects, plants, and discover the changes of seasons as the year progresses.
You can research together questions like:
Where does snow come from?
What happens to ants in the winter?
Why do bees like flowers so much?
What turns the leaves into different colors?
How come there are never any baby butterflies?
I would also add a science journal (just a sketch) they can use to draw pictures of what they find!
6. Art: Art For All Seasons
Crafts are not my thing, but I know my kids LOVE them.
I also know that my pre K student learns so much from doing them! Following directions, cutting skills, gluing, coloring, and being creative!
I love to see the pride in her eyes when she has made something beautiful all by herself.
Another homeschool mom handed this craft book down to me and I am so impressed with it.
This book has so many simple crafts for every season and holiday, so I always feel prepared with something fun!
The required supplies are also not ridiculous, which is a huge help to this busy mom.
There are also very nice templates in the book that you are instructed to photocopy for some of the crafts. They always make a very nice finished product!
7. Music: Music in Our Homeschool
Music is also not one of my strong areas.
Thankfully, I recently discovered Music in our Homeschool!
The website offers amazing music courses that were designed by a homeschool mom who has decades of music teaching experience.
My pre-K homeschooler is currently loving "15 minute Music Lessons!"
Every week is a new focus on a different type of music – some modern and some classical – which we love!
We have learned about music from the Olympics and baseball music so far. Throughout the year we will also be studying Handel's Messiah, patriotic music, acapella singing, music from Frozen, and much more!
Music in our Homeschool has other courses for young kids, so be sure to check them out!
Pre-K Homeschool Curriculum Recap
Pre-K is nothing to be nervous about, Homeschool Mama.
It is a year to explore and learn with your kid!
The Pre-K homeschool curriculum picks I shared with you are guaranteed to give you a year free of stress and full of fun!
Remember to keep things light, silly, and kid-friendly! Definitely keep to the time commitment of 1 hour per day and you will do just fine!
Want more support?
Join The Simple Homeschooler Community!
You will receive Monday morning emails full of homeschool support, tips, freebies, and laughs!
When you subscribe today, I'll send you a copy of The Simple Homeschooler Planner for free!
Just fill out the form below to sign up and you'll have the downloadable planner in your inbox today!
Read Next: