All About Reading Pre-Reading Review
If you are looking for a homeschool curriculum to make sure your child is ready to read – "All About Reading Pre-Reading" is the best place to start!
I have used this curriculum with my middle child and I am now using it with my youngest.
It is a beautifully put together curriculum that is so engaging, simple, and fun for kids!
I know you have questions and want to know all the details, so I put together this very thorough and comprehensive All About Reading Pre Reading Review that is going to answer all of your questions and more!
Is My Kid Ready for All About Reading Pre-Reading?
I personally would not start All About Reading Pre-Reading with a kid until they are 4 or 5.
The reason why is that I have seen All About Reading Level 1 and it is a pretty big jump in terms of work and attention span needed.
Don't get me wrong, it's still a super fun curriculum that kids are going to love…but you don't want to exasperate your child if they are not ready for it.
As an example, my child flew through All About Reading Pre-Reading at a record pace, but she was not ready developmentally to dive into the next level for another year. I wish I would have waited.
If you're not quite sure if your child is ready, check out the All About Reading Pre-Reading Readiness Checklist.
I have looked at it and I think it would be a very good indicator of how well your child will do.
What Do I Need to Buy for All About Reading Pre-Reading?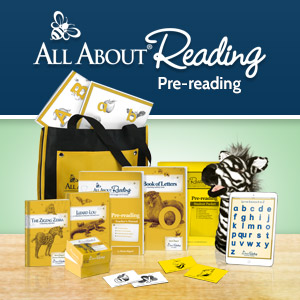 This is a super common question – should I buy the All About Reading Pre-Reading Basic package or the Deluxe Package?
I personally bought the deluxe package because I believed that would give me the best chances of success.
In hindsight, I did not need all that.
The extra things you get in the deluxe package are the nice box to organize your cards (there are a lot of cards), a cool Zebra puppet named Ziggy, and a very sturdy canvas tote to hold all your materials.
The box to hold the cards is convenient, but you could also get an index card holder box at Dollar Tree that does the same thing.
The canvas bag is very nice, but I tend to keep all my materials on a bookshelf anyways.
Ziggy the zebra is a super cool puppet! But sometimes I found him to be more distracting than helpful during lessons. I have also lost him a handful of times and ended up using a regular stuffed animal instead.
The lesson worked out just fine.
So my recommendation would be to purchase the All About Reading Pre-Reading Basic Package – not the deluxe package. Your kid will still have a blast and learn a ton with this great curriculum!
Oh and by the way, the basic package includes 2 beautiful letter posters, an activity book, a teacher's manual, 2 books of poetry, and animal stickers to go on your student's tracking chart. There is even a very professional looking certificate for when your kid completes the curriculum.
My daughter was so proud to get hers:
What Does a Typical All About Reading Pre-Reading Lesson Look Like?
Alright, let's start talking about how the curriculum works and what a normal lesson is going to be like.
Here is a picture of Lesson 16 – Capital P – in the teacher's manual:
As you can see, the lesson starts out with singing the alphabet song.
My child will sing and touch every letter on the number chart. Then I ask her to find the letter we are learning about that day. She touches the letter and then tells me the sound it makes.
I hand her "The Zigzag Zebra" and she has to flip through the book to find the story about P.
I read it to her (very short and silly, usually 3 sentences), and then she hunts through the text looking for a P.
Then we move onto the letter craft of the day. My kids have LOVED the letter crafts. They are very simple and manageable, but always turn out super cute.
For today's letter craft, I tell my child to color the porcupine and the letter P. Then I put some glue on the paper and she glues dried pieces of spaghetti for "quills."
A very easy craft that she can do almost independently – something she is super proud of.
After the craft, you are directed to go to the back of the book and do one simple hands-on activity with your kid. This could be using your finger to write P in salt. It might be using playdough to make a P. You can pick from the list and do whichever you like.
When this is complete, we start the last part of the lesson.
This can be a number of things from a fun worksheet, a game, or a verbal exercise. These activities are where your kid is really going to start picking up solid skills for reading. The lessons focus on things like rhyming, letter recognition, sounds of the letters, differences between capital and lowercase letters, segmenting, and syllables.
For today's lesson, I played a game with my child where she had to segment sentences I read to her and figure out how many words are in it.
After this structured time, parents are encouraged to read to their kids for 20-30 minutes every day. That could be during snack time, at bedtime, or at any other time that is convenient.
How All About Reading Pre-Reading Progresses
What I just showed you is towards the beginning of the curriculum, so I wanted to give you a roadmap for where you would be going throughout the year with Pre-reading.
There are a total of 78 Lessons. This obviously would not fill a whole school year if you were completing a lesson every day. This makes Pre-Reading a great option if you need flexibility.
You could do a lesson 2-3 times a week and still finish the year in plenty of time.
The first 26 lessons focus on lower case letters with a new letter introduced every day.
The next 26 lessons focus on the upper case letters.
And the last 26 lessons focuses on the sounds of each letter.
Of course, all the pre-reading skills mentioned in the above section are added into each lesson.
What We Love About All About Reading Pre-Reading
1. Letter Craft
The letter crafts truly are the star of the show with this curriculum. I don't know who designed them but it is genius. My oldest kid actually wanted to do the crafts too!
You need very few supplies (i.e. googly eyes, markers, washable paint, yarn) that I was able to easily get at Dollar Tree.
The result is so much better than the construction paper craft ideas you get from Pinterest. I feel like those take so much more time and money, and the parent ends up doing the majority of the work.
These crafts are keepers and look so nice in a binder with page protectors.
2. Hand Motions for Vowels
Vowels can be so tricky for kids. I love that All About Reading Pre-Reading introduces hand motions for kids to do when they see the vowel.
For example, for the letter "i" your student will be told to pretend to itch their arm.
This internalizes that "i" says "i-i-itchy!"
My middle child has grown out of this curriculum, but we still refer to these little tricks to remember the vowel sounds.
3. Open and Go
This is a true open and go and is very easy for parents to keep up with.
I usually glance at the activity the night before, so I have an idea of what we're doing. It takes me less than 2 minutes to read it.
I also go through the lessons and make a list of all the supplies needed (it's a short list) and make sure I have everything on hand for weeks in advance.
4. Fun for Kids – Perfect Way to Start Reading
This is such a gentle and fun way to start the process of learning to read. My kids WANT to do the lessons – even on weekends and holidays.
I had originally wanted to do only 3 lessons a week with my youngest…but she wasn't having it!
She demanded to do her schoolwork every day. That's the kind of attitude a homeschool mom wants to see!
5. Short Lessons
I think it's so important to not overwhelm kids with lessons that are much too long for their developmental abilities.
This turns them off to learning!
All About Reading Pre-Reading lessons can be done in 15 minutes or less depending on how long your kid wants to take with their letter craft and how long they "play" with Ziggy during lessons.
6. Outstanding Customer Service
I had a question about the curriculum during the first year of teaching and I was so impressed that someone from customer service got right back to me.
It's nice to know that when you get a quality curriculum, there is quality customer service at the ready to help you.
What We Don't Love About All About Reading Pre-Reading
No curriculum is perfect, so I always try to include the things that I wish I could change in a review.
1. Cost
I would say All About Reading Pre-Reading is on the high side of price. I wish it was a bit less expensive, but I understand that the high quality I'm getting has a price tag.
I also understand the price is a tiny fraction of what I paid for just one month of my oldest to go to pre-K classes.
2. Consumable
When I started my second kid with Pre-Reading, I had to purchase a new activity book. It was actually pretty reasonably priced, but it's always nice when you can buy things once and use them for all your kids.
3. Confusing Letter Chart
So this is kind of a negative and a positive of the curriculum.
Pre-reading will often have an image that doesn't look like it would go along with the sound.
For example, there is a picture of a goat for the letter N. The story that goes along with it says that it's a "Nanny Goat."
I could not understand why the curriculum would have something so confusing displayed with the letter chart, letter craft, and the stories.
Why not pick something easy like a Narwhal?!
After doing the curriculum for several weeks, I started to understand why. I noticed that when my kids look at the picture, they have to think. They know goat doesn't start with N, so they pause.
It really helps to solidify that they understand the sound and truly connect the concepts.
I actually think it's really smart now, but others may find it annoying that some of the images are not as cut and dry.
Extra All About Reading Pre-Reading Tips
1. Save the letter crafts in a binder
They are so cute, but they will start to stack up quickly. You will definitely need a place to store your kid's hard work!
I usually let the letter crafts dry for 24 hours and then put them in a binder with page protectors. My kids love to flip through their work and show friends and family what they made!
2. Gather craft supplies far ahead of time
It only takes a little bit of time to flip through the letter crafts and lessons to make a short list of what you will need. I find it really helpful to have all of the supplies in a cabinet and ready to go. No surprises.
3. Use a page tab to keep track of where you are in the teacher's manual.
It sounds like a small thing, but it gets super annoying to be always be thumbing through a manual to find your place. Definitely pick up a pack of these and use them in all of your teacher's manuals.
4. Be extra silly
This is such a fun time to be silly with kids and have fun. Your lessons should be full of laughter and play!
Don't be afraid to go over the top and have a blast with your kid. They will absolutely love it and it will make school time that much more enjoyable for them.
5. Don't wait for a sale/promo code
Your best bet of getting a discount on price is to buy used curriculum and purchase a new activity book. I have never seen All About Reading have a sale or use promo codes.
They do this in order to keep prices as low as possible year-round.
Recap All About Reading Pre-Reading Review
Well, there is my All About Reading Pre-Reading Review!
I told you it would be comprehensive!
I hope all of your questions are answered and you're ready to make a decision about getting your homeschooler ready to read!
Go ahead and click on over to the All About Reading Website to find out more.
Have you had a wonderful experience with Pre-Reading? Be sure to dr0p a comment below and share!
Want to share all this info for later?
Super smart of you.
Just pin this post to your favorite Pinterest board and share it with your homeschool friends and followers!
Read Next: