Easy Kindergarten Books For Kids Who Want to Read!
Are you on the tiring journey of trying to find books for your early readers?
Exhausted of flipping through "easy readers" that are actually just pages of frustration with complicated sight words like "delicious", "fashion", and "everyone?"
Are you hoping for simple text and short sentences, only to find a wall of words?
How defeating for young children to come across these things in what is supposed to be fun books for beginners.
If you can relate to this nightmare, then you have some good news coming.
Keep reading to find out more about:
Appropriate Kindergarten Reading Levels
The Kind Of Books Kindergarteners Should Be Reading
Best Reading Programs For Struggling Readers
My Best Tips For Reading With Your Child
The Best Books For Kindergarten Readers!
What Is An Appropriate Reading Level For Kindergarten Readers?
This can be a nerve-wracking and confusing question these days because reading expectations have drastically changed over the last few decades.
It used to be that kindergarten students were expected to learn the alphabet, letter sounds, and early blending of short words like c-a-t.
They didn't even have a reading level yet.
First grade was when the real work of reading began.
Now it is often expected that a kindergartener should know all these things by the first day of school. In fact, they are often expected to be reading full books by the end of the year – if not earlier.
Your average kindergarten teacher is teaching young students to read with a tiny dot of phonics and a sea of sight words. Which is essentially memorizing words as letter pictures.
This is because there is tremendous pressure to have kids reading earlier and earlier – regardless of whether it is appropriate by developmental standards.
But pushing beginning readers this way doesn't seem to be helping literacy rates at all. In fact, literacy rates have declined.
Statistics show that only 35% of fourth graders were reading on grade level in 2019.
And I'm sure that number hasn't increased with the pandemic.
Well, What Kind Of Kindergarten Books Should My Child Be Reading Then?
Educators across the country are calling for a return to basic phonics teaching for young readers.
Scientific research backs it as the most effective way to teach reading!
In the list of kindergarten reading books below, you will not find any Amelia Bedelia, Mo Willems Books, Kevin Henkes, Cynthia Rylant, Fancy Nancy, trendy graphic novels, chapter books, or even a standard picture book.
You will find early reader books that are steeped in phonics.
They are hands-down the best books for raising a rock-solid reader who will grow into a passionate reader.
High-Quality Phonics Programs for Reading
If you are not (or your school isn't) already using a high-quality Phonics curriculum, I would strongly recommend looking into one before purchasing any easy kindergarten books below.
I have used several phonics programs during my years of homeschooling and there are two that I highly recommend.
1. All About Reading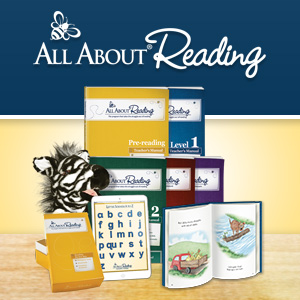 All About Reading is an outstanding program created by a mom of a kid with learning challenges. In homeschool circles, it is considered the gold standard for reading curriculum. You are not going to find a more complete and thorough phonics based reading curriculum.
2. Explode the Code
I saw Explode the Code recommended many times in homeschooling circles for kids who were struggling with reading.
We bought one of the inexpensive workbooks to check it out and we were hooked!
It can easily be used as a full curriculum, a supplement, or just to brush up on skills.
Tips for Getting the Most out of Easy Kindergarten Books
Before I dive into the list, I want to drop three quick reading tips that have worked for me and could make all the difference for you and your budding reader!
1. Control Your Face
Reading can be one of the most infuriating things to teach. As you listen to your child painfully and slowly try to sound out a word that they JUST sounded on the previous page, you might find yourself losing patience.
Your encouragement and positivity are everything during these stages. Be sure to always have a smile on your face and something positive to say.
2. Use a Mini White Board
I have no idea why this works, but it just does. Keep a piece of white paper or a mini white board (kids love them!) handy while reading together. When your kid stumbles over a word, it will help to write the word bigger and then mark it up and break it down phonetically with your child.
Sometimes just writing the word somewhere else has helped my kids to see it differently.
3. Cover the Pictures
Many parents and teachers will encourage their kids to look at pictures and use context clues to figure out words. If you are teaching a solid phonics program, that is unnecessary. I personally find the pictures to be distracting to my kids, and encouraging them to guess will decrease their confidence when they come across books with no pictures.
I use a 3 x 5 card or something similar to cover pictures when my kid is reading. When they finish reading, I pull back the card and she gets to see the picture as kind of a reward for completing that page. It's also a good way to check reading comprehension and see if the picture matches up with what she just read.
Alright, I hope these tips help you use your kindergarten reading books with confidence!
Dive in and get reading!
Kindergarten Book List That Will Get Your Kid Excited About Reading!
I have a little bit of an obsession with easy phonics readers so I have a larger library of these books than most homeschool moms. To me, it is important to keep tons of books on hand so that my kids have plenty of variety as they learn to read.
1. I Can Read It!
I Can Read It! is a 3 book series from Sonlight curriculum. It contains multiple stories in each book and really feels like a "real book" when you pick it up – not the flimsy little books that can get lost in a couch cushion.
The stories are engaging and the illustrations are beautiful. They really stand out from other easy phonics readers I've seen.
The use of sight words is minimal as the focus of each story is to introduce and practice new phonics skills.
The only thing I have to complain about this phonics series is that it doesn't keep going! I would like to see more I Can Read It! books that include long vowel sounds and 2 syllable words.
You can find out more about I Can Read It books – HERE.
****Be sure to check out the "used" prices for a better deal or even your local library!
2. Now I'm Reading!
Now I'm Reading! is a great book series for a kid who loves a funny story or a silly story!
These small books have colorful illustrations and they tell a real story that will grab your child's interest.
My kids particularly like that a large pack of stickers was included with the set.
When you finish reading a book, you put a sticker inside the cover of the book – a great way to celebrate the accomplishment! As a parent, I also like that there are many stickers included, which encourages kids to read and reread the story for more practice.
That practice builds those reading skills and overall fluency.
You can find out more about the Now I'm Reading Books – HERE!
3. Primary Phonics Readers
Up front, of everything on this list, Primary Phonics easy readers are my favorite. They are exactly what I was looking for and I plan to buy all the sets as we work our way through our phonics reading curriculum.
The illustrations are black and white, but the stories are interesting and sometimes teach a lesson. There are 10 books in each set and you can easily flip over the book to see which phonics rule the book is focused on.
As an added bonus, I noticed that the Primary Phonics creators made an effort to illustrate characters from a variety of ethnic backgrounds. It was refreshing to see.
You can find out more about Primary Phonics readers – HERE.
4. Usborne Very First Reading Set
The Very First Reading Books were a gift to my oldest daughter and they are still a favorite in our house today! They have been read over and over again, and these hardcover kindergarten level books have stood the test of time. They look the same as the first day we got them!
There are some pretty big things that set this series apart from the others. The hardcover books are packed with brightly colored illustrations that will capture a child's attention right away. These books are longer than your typical easy phonics reader – about 22 pages for each book.
The first books in the series have a unique setup. Small text is meant for the parent to read and large text is meant for the child to read. This helps keeps stories really interesting, without overwhelming the child. As you progress through the series, the small text goes away and the child reads the whole book.
At the back of each book there are 3 puzzles for kids to solve about the story. This is a great way to focus on reading comprehension, fun rhymes, and extra reading practice.
As you can see they are a high-quality, colorful book set that will last. You can find out more about Usborne Very First Reading Books from an Usborne rep or you can click – HERE.
5. Usborne Phonics Readers
Yes, Usborne has another easy phonics reader set that is just as fun, engaging, packed with fabulous illustrations, and full of lovable characters!
These books are hardcover and full of silly stories! You will also find the same puzzles in the back of the books that the Very First Reading Set has.
The difference would be that each of these books contains 6 stories – as opposed to getting separate hardcover books. I also found these readers to be….a little advanced.
The stories do not build in difficulty. They all contain all different phonograms and areas of phonics. The stories will say that they are highlighting a skill such as the "oa" phonogram, but the stories also contain many other phonograms. This is just different from the progression of other easy kindergarten books.
I would still recommend these books though because I think they are great for kids who have completed (or close to completing) a phonics curriculum. These stories are so imaginative and original – your kids will love them!
They would be a great addition to any home library.
6. McGuffey Primer
McGuffey's Primer is the book that schools used to teach reading for many decades. The books have been phased out, but they are blessedly still in print and shockingly affordable!
I stumbled onto a copy and ordered it out of curiosity. When I took it out of the package, I could tell right away that it was a much older type of book in terms of the font, illustrations, and that it talked about "slate work."
OMG!
Well, my middle daughter took it right out of my hand, plopped on the couch, and started reading it!
I have been able to get it back from her and I have to say that I really like it! The best feature for me is that it shows the phonics symbols for each new word taught in the lesson. That way if the kid is confused about whether the vowel is a long sound or short sound, they can just glance up and see what to do.
I also like that one book spans from simple words and short sentences to much more complicated text with paragraphs and multi-syllable words.
The retro feel of the book is really fun and wholesome – especially to a history loving homeschool mom!
7. All About Reading Readers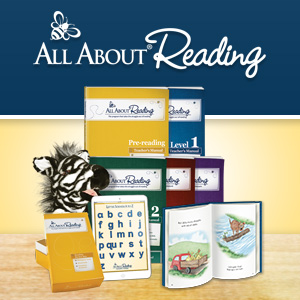 All About Reading is a phenomenal phonics reading program that has its own set of readers.
My middle daughter says that these are favorites!
These easy phonics readers are hardcover with detailed illustrations. There are 2 books for each level of All About Reading.
The level 1 books stick to short vowel sounds and consonant blends. The level 2 books introduce long vowel sounds and 2 syllable words. The levels extend to level 4 with the most challenging phonograms.
Each book contains 13-20 stories depending on which book you are using. They are high quality and will last through all of your kids.
You can check out more about the All About Reading Readers at their website and even download a free sample of each book.
You cannot buy the books individually though. The best deals I have seen for these books is at Rainbow Resources.
8. Bob Books Series
Bob Books is a classic series and the first easy phonics readers that I bought for my homeschool.
From my experience, they are the most well known, affordable, and widely kindergarten readers.
For us, it was a breath of fresh air. Finally, my kid was able to read every word in a book – victory!
There is one story in each paperback book and there are usually 12 books in a set. There are a total of 5 sets of Bob Books.
I really like that once kids complete Set 5 Bob Books they are ready to take on easy chapter books. A big step!
You can find more about Bob Books – HERE.
9. Tug the Pup
I do not have Tug the Pup in my library yet, but I have my eye on them! I have seen them recommended several times by other homeschool moms who use the same reading curriculum.
The first set has 11 colorful books that follow the cute story of a little dog named, Tug. It is intended for the beginning reader with short, simple sentences that use mostly CVC words.
Apparently, the difficulty rate does increase rather sharply, so more experienced readers will still be challenged.
You can find out more about Tug the Pup and order your own books – HERE.
10. TPT Easy Phonics Readers
A homeschool blogging buddy of mine is very successful with writing and selling her own easy phonics readers for a fraction of the price of most books.
You can cruise her Teachers Pay Teachers page and find an overwhelming amount of Kindergarten readers on just about every imaginable topic – science, monsters, bunnies, insects, seasons, holidays – she has got it all!
I love that you can instantly download and print a book for only $1.50! You just can't beat that deal.
This is a minimal investment for your homeschool that your young reader will love! I would even recommend looking through the selection and then letting your child choose which books they want to order!
You can check out her TPT page – HERE.
11. Phonics StoryBook
Phonics Storybook is a collection of 25 stories with included activities to reinforce learned phonics skills.
It is a bit of hybrid of an easy phonics reader set and a workbook. Pictures are bright and colorful, and the words/sentences are simple.
Phonics Storybook could be used in so many ways: gentle introduction to reading, supplement for another phonics reading program, independent work while you are teaching your other children, or summer fun school work to keep skills sharp.
There is a Sight Words StoryBook that you can look into if you have a more advanced reader. We don't use sight words very much in our homeschool, but this book is using words such as play, here, and like as sight words. These words are easily decoded with basic phonics rules.
12. Meet the Phonics Easy Readers
Meet the Phonics is an award winning curriculum that has a huge amount of materials to support a kid at any stage of reading. There are DVDs (you can stream on Amazon), workbooks, flashcards, and easy phonics readers to pick from!
The first set of easy phonics readers focuses on short vowels and consonant blends. I love that you can pair it with the corresponding DVD. Kids often learn so much better when they have an engaging visual.
The next set of books focuses on digraphs, such as "wh" and "gn." There is also a corresponding video. This would definitely be a more advanced phonics concept.
The following three sets of easy phonics readers are focused on "sight words." As mentioned earlier, many of today's sight words can be broken down by simple phonics skills, so don't let that scare you off too much. You can also stream the video for a few dollars on Amazon before making the investment of purchasing the books.
You can checkout all the Meet the Phonics curriculum – HERE.
13. Hooked on Phonics Readers
I think most people would agree that Hooked on Phonics used to be the most popular reading curriculum. The market is now flooded with other reading curriculum options, but Hooked on Phonics still has name recognition.
I was surprised to see how inexpensive their materials are now. I thought that you would have to purchase a huge package for hundreds of dollars.
Nope.
You can purchase a single level (they have a total of 8 levels) of Hooked on Phonics for less than it costs my family to go through a drive through. You get a DVD, stickers, easy phonics readers, and a workbook.
Unfortunately, there is not an option to buy just the easy readers, but the price still makes it a very competitive option.
You can find more about the Hooked on Phonics system and which level your child should pick – HERE.
14. Miss Rhonda's Readers
These Montessori inspired easy phonics readers were initially developed for the classroom, but you can now easily pick them up on Amazon.
Miss Rhonda's Readers come in 2 sets with 8 books in each set. They are written with minimal sight words and engage kids with "real life" stories.
You should note that they are not meant to be early reader books. The first set of books contains consonant blends, phonograms such as "ee", and even 2 syllable words such as "rabbit."
To find out more about Miss Rhonda's Readers, you check them out – HERE.
15. Free Printable Phonics Books from The Measured Mom
What a find this was!
The wonderful people at The Measured Mom offer free easy phonics readers – that are instant download!
You don't even need to give them your email address to get access to the 24 different printables they offer!
They have booklets that focus on the short vowel sounds, r influenced vowels, silent e words, contractions, compound words, and many phonograms.
All you have to do is print it out, and assemble the book for your kid! And there are colored illustrations too!
Check out the free booklets and see what you can use for your kids – HERE.
Recap Easy Kindergarten Books
As you can see there is no shortage of phonics readers out there!
If anything, there is an overwhelming amount to pick from for your emergent reader. Hopefully, you find something that works for you and truly helps your child to develop a love of reading!
Remember that even if friends and family members are pressuring your child to read too early, a sight word method is not the best stategy.
Learning phonics takes longer, but it produces a much stronger reader overall.
Do you have an easy kidnerarten books that you want to rave about? Drop the info in the comments!
Read Next: