4th Grade Curriculum Picks
It's hard to believe, but the homeschool year has flown by and I'm already shopping for next year's curriculum!
I will say that I had not planned to share my 4th grade curriculum picks this early – but since we are all supposed to be inside social distancing…what better time is there to start the roller coaster of fun that is curriculum shopping?!
This upcoming year is pretty big for us because we are going to completely shake off our typical box curriculum. We have used it on and off for years as my kids have been in different grades, but I think I am finally ready to completely drop it.
I have been hearing about so many awesome curriculum choices from friends and other homeschool bloggers, and I am excited to try as many as we can this year!
What Are the Subjects That 4th Grade Curriculum Should Cover?
You should always check your state to see what (if anything) is required for you to teach at each grade level.
Our state does not have anything that they require for 4th grade curriculum, so I plan to teach these core subjects:
Reading
Grammar
Writing
Math
Spelling
and these enrichment subjects:
Science
World History
Art
Handwriting (Cursive)
Bible
Typing
P.E.
Music
Foreign Language
4th Grade Curriculum Picks
Math: Teaching Textbooks
Math has always been an issue for my 4th grader, but Teaching Textbooks turned that around!
This curriculum offers simple-to-understand, engaging video lessons to explain all the math things.
There are quirky animations, sounds, and stickers that add to the fun, but don't distract from learning.
It is spiral-based, which means a new concept is taught each day, but there is constant review. Each lesson has about 22 questions to answer, so it is not an overwhelming amount of work.
I do recommend Multiplication Facts that Stick, Times Tales, Division Facts that Stick, and Reflex Math as supplements to go along with this curriculum to ensure you have solid fact mastery. Math facts are the basis for all math, so we work really hard to make sure our kids are building on a solid base.
UPDATE: I could not have been happier with how math went this year. We actually finished the curriculum early and she was more than prepared for her standardized test. Will definitely continue with this for 5th grade.
Language Arts/Grammar/Writing: BJU English 4
The BJU Language Arts curriculum came very highly recommended, and I am eager to get started with it!
I have already flipped through the teacher's manual and workbook and I can tell this is a solid curriculum. I love that it rotates between teaching grammar lessons and writing assignments, so your kid doesn't get tired of always doing the same type of English work.
I also love that it includes a chapter review and regular cumulative review. This is so crucial with retaining grammar rules. Our last curriculum did not review well, so I'm excited to switch to this one!
UPDATE: This curriculum did not disappoint! I was very pleased with the constant review, fun writing assignments. I have already bought the 5th grade version for next year. You can check out my full BJU English review here.
Reading: All About Reading Book 4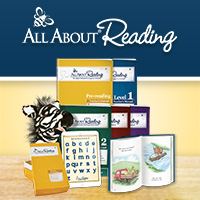 My soon to be 4th grader has strong reading skills, so I am comfortable with providing her reading level appropriate chapter books that I buy or get at the library.
She is required to read for 15 minutes per day or one chapter. I also usually find her reading at night before bed.
I try to sit with her at least once a week and listen to her read. That gives me a chance to gauge how she's doing, talk about vocabulary words, and help her break down any new/challenging words there might be in the text.
If you have a student who struggles with reading or if you would be comfortable with more structure, I highly recommend All About Reading.
I have used their Pre-Reading and Level 1 materials and I think they have a top notch reading program that I plan to use with my younger kids as long as they need help with reading.
Spelling: All About Spelling
Spelling used to be an issue in our homeschool until we found All About Spelling.
My oldest always did well on her spelling tests…but she would forget how to spell the words pretty quickly after the test was over.
Most spelling curriculum basically has you learn to spell by memorizing the order of the letters. They do this through cute worksheets, word searches, etc.
All About Spelling takes a completely different approach by teaching kids to spell by phonetically sounding words out – so you learn to spell many words – not just the 10-15 on your spelling list.
This makes so much sense to me. We teach our kids to read by using phonics – why wouldn't we use that to teach them spelling?
My daughter took to it right away and her confidence with spelling has soared. We did All About Spelling books 1 and 2 in 3rd grade, so she will be moving on to level 3 in 4th grade.
Lessons take approximately 15 minutes and require very little pep time for me.
UPDATE: Still loving All About Spelling! We finished Book 3 this year, and I have already purchased Book 4. You can read my full All About Spelling Review here.
History: The Story of the World
I have been hearing about Story of the World for years and I am so excited to finally get started with it!
Story of the World is a series of books that covers history from Ancient Times to the Modern Era in 4 books.
We will be doing Volume 1 this year which covers early nomads to the last Roman Emperor.
The chapters are short, engaging, and make history come alive for kids!
I have already flipped through the book and I know my kids are going to be begging me for more.
I also opted for the audio version of the book so that I can take it in the car with us, or just play it on days I don't have as much time to read aloud.
The activity book is packed with coloring sheets (great to keep hands busy while I read), activities, review questions, map exercises, and even some recipes!
Some examples of fun activities I saw from flipping through the book are carving a greek statue out of soap, making a gingerbread Parthenon, and constructing a sand cube pyramid. All of these sound like such a fun way to bring history alive and make it stick in my kid's head!
UPDATE: This curriculum is awesome! It was easily my kid's favorite subject and always got her excited to come to the table and learn. I highly recommend it for any elementary level history program.
Handwriting: Beginning Cursive for Confident and Creative Girls
Yes, cursive is usually part of 3rd grade curriculum, not 4th grade curriculum.
But, I received some terrible advice years ago and tried to teach my 2nd grader cursive.
Please don't ever do that to yourself. She was not ready for several reasons and it was a miserable experience.
I took an entire year off of cursive in order for both of us to recover. I plan to start over with cursive in our 4th grade curriculum with a super fun workbook I found on Amazon – Beginning Cursive for Confident and Creative Girls
If you have not started cursive or if you have a boy, I would also recommend Handwriting Without Tears Cursive.
That is the first book we used and I think it would have gone very well if my kid had been older.
UPDATE: This book was a lot of fun, and my daughter easily completed it by the end of the year. Definitely no tears, and she even started writing her regular assignments in cursive on her own.
Science: Noeo Science
Noeo Science was developed by a homeschool dad who understood the struggle of homeschool parents to get science done every week.
Truth be told, science can be time consuming, energy draining, and messy…so it can slip off the schedule from time to time.
Noeo Science delivers a box with a complete curriculum of living books and fun science kits with all the necessary materials – it's the entire year of science in one place!
No need to read ahead, go out and grab supplies, or find supplements.
You can choose between Chemistry, Biology, and Physics depending on your kid's interests.
To find out more and see an unboxing video, check out the Noeo Science website.
P.E.

Our kids play outside a lot and they are also involved in multiple groups sports – but I still feel that P.E. should be added into any homeschool routine.
As kids get older, they typically stop doing the things that kept them active – groups sports and playing outside. They start to prefer talking with their friends at Starbucks instead of playing tag.
I think it's important to have regular, intentional time to "move our bodies" and talk about the importance of stretching and exercising as ways of taking care of our bodies.
The hope is that will become normal and they will carry the activity into adulthood.
About 3 times a week, I lead the kids in simple stretches and talk about flexibility.
From there, I switch up what we do. We might just do a handful of simple exersices: jumping jacks, walking lunges, skipping, running in place, crab walk, etc.
All of which make the kids laugh and they think is great fun!
We might go outside for a walk or a bike ride.
Or we throw around these dice for a fun, active game.
I plan to stock up for next year with some more exercise games to be used only during P.E.
Amazon has some great options that you can check out here.
We probably spend 10-20 minutes total on each P.E. session.
Bible: The Gospel Story Bible + Daily Quiet Time Bible Study
We used The Gospel Story Bible last year and love the one page stories that walk you through the Bible and always find a way to point the story towards Jesus.
I especially love the illustration and the 3 questions at the end of ever story. It really engages my kids and lets me know if they were paying attention and/or understood the story.
We will continue with The Gospel Story Bible (It has 156 lessons, so not done yet!), but also added in Developing a Quiet Time Bible Study.
I really just stumbled onto this resource and I just love the concept!
I have spent so much time teaching my oldest about the Bible and who God is. I now want to take that a step further and show her how to build a relationship with God.
This 28 day Bible Study is a the perfect tool to start that journey and develop a consistent habit of daily time with God.
Art: Home Art Studio
This award-winning, DVD-based art curriculum is a slam dunk for any parent trying to teach high quality art at home!
Just pick up the supplies off the list and hit play on the DVD and your kid can start making some amazing projects.
Sound too good to be true?
Definitely check out the free art lesson on the Home Art Studio Website to get a snapshot of what a typical lesson looks like. I was so impressed, and had no more questions after that!
Here is a description of the fouth grade curriculum:
"Fourth graders are following Ms.Volin on her Adventures in Art! This DVD is full of fun and challenging projects. Some of the many ideas taught are radial design, one point perspective drawing, and how to add shadows and highlight to create more realistic images."
Typing was one of the best classes I took when I was in school – it was a practical skill that has helped me a lot in college and life.
I didn't think my daughter would need to learn to type this early, but her 3rd grade co-op writing teacher was already asking for typed final drafts.
Technology is the way of the future I guess 🙂
Thankfully, I found Kidztype!
It is FREE and my daughter loves it. It was one of her favorite subjects in 3rd grade and we plan to carry it into 4th grade and use it until she becomes a fluent typist.
Lessons take about 10 minutes per day.
Music: Music in Our Homeschool
We have tried a handful of music curriculums in the past, but my daughter had little to no interest. I have offered her piano lessons (like her sister takes), but she refused them.
I am not wanting to force music on her, but I don't want to give up on it either.
Thankfully, I stumbled onto Music in Our Homeschool! It is a fantastic website that offers music courses for kids that even I can teach.
There are numerous courses to choose from, but we have decided to go with "15 Minute Music Lessons." They are simple lessons that include full lessons, videos, worksheets, printables, and online quizzes.
The lessons look so easy and fun – this is the most excited I have ever been to teach music!
Foreign Language (Spanish): DuoLingo
My daughter has been asking to learn Spanish for a while, and I have been sorta putting her off.
The main reason is that I don't speak Spanish…or any other foreign language.
The second reason is that most of the curriculum options looked really expensive and time consuming.
The third reason was that I was pretty sure it was a phase.
Thankfully, I stumbled onto DuoLingo. It's a free app that teaches Spanish! It only takes about 10 minutes a day and my daughter is really enjoying it.
If she continues with this, I will look into getting her more solid curriculum such as Rosetta Stone for Homeschoolers.
4th Grade Curriculum Picks – That's it!
As you can see, we have a full year planned!
I am excited to get started with all of it and I hope it helped you make some decisions about the sea of 4th grade homeschool curriculum options out there.
Want to save this for later? I know, it's a lot to digest!
So be sure to pin this to your favorite Pinterest Board and share with your friends and followers!
Read Next: