1st Grade Homeschool Curriculum Picks: Simple and Fun!
I made SO MANY mistakes in my first year of homeschooling.
I started out with teaching 1st grade to my oldest daughter after pulling her from public school.
Looking back, I can see how I stressed about all the wrong things and worried about things that were just not that important.
Well, I'm getting a second chance at teaching 1st grade now with my middle daughter!
This time around will definitely be more fun, as I am so much more comfortable with picking out 1st-grade curriculum, how to teach it, and what to worry about (and what not to worry about!).
My middle child will absolutely benefit from all the mistakes and missteps I made in my first year of homeschooling – lucky her!
I am excited to share with you my simple, fun, and engaging first grade curriculum picks, but first, let's talk about…
What is Taught in 1st Grade Curriculum?

Well, there are a lot of homeschool bloggers and large box curriculum companies that would say your first grade curriculum should include everything and the kitchen sink.
I tend to disagree.
As we enter our 6th year of homeschooling, I have found that more tends to be too much.
Too much tends to overwhelm children, bore them, and turn them off to the learning process before they have barely started.
Our goal as homeschool teachers is to strike a balance in our course load that maintains a love and passion for learning.
****Always check your state requirements for what subjects you must teach. Some states have minimal to no requirements, while others have required subjects that must be covered.
So, for our 1st grade homeschool curriculum, we have chosen to focus on…
Core Subjects:
Reading

Language Arts/Writing

Handwriting

Math

Literature/Read aloud books
And These Enrichment Subjects:
Bible

Science

History (includes social studies topics)

Art

Music

P.E.

Foreign Language (very optional)
How long is 1st grade curriculum supposed to take every day?
Great question!
The above list might look long, but every subject is NOT done every day.
The core subjects are done daily, and the enrichment subjects are on a more relaxed or loop schedule (1-2 times/week).
The goal for first grade is to have school done in 2-3 hours depending on the length of breaks.
And what are you supposed to teach for each of those subjects?
Check out my first grade homeschool curriculum choices below!
1st Grade Homeschool Curriculum Top Picks
Reading: Explode the Code
Explode the Code is a workbook based phonics curriculum. The pages are black and white, but the illustrations are silly and fun!
Once I did a few pages with my 1st grader, she was able to get the hang of it and she does much of it independently now. This is a huge help when homeschooling multiple kids!
I also love that spelling is naturally incorporated into the curriculum. The workbooks have the student go through multiple exercises breaking down the sounds of a word. Then the student is just given a picture, and they have to spell the word independently. The posttest also includes dictating sentences for the child to write.
Another benefit of Explode the Code is that it is much less expensive and less teacher intensive than any other reading curriculum I have seen. You can buy one workbook at a time to see how your kid likes it – no need to buy a very expensive reading package that you can't return.
Make sure to purchase the teacher's manual when you get the workbooks. They do offer great warm-up activities that help with building reading fluency, as well as instructions for the pre and post-test in the workbooks.
UPDATE: I am so very happy with this curriculum! My first grader finished the year about halfway through the 5th workbook and was well prepared for second grade. Her reading level is beyond what I had hoped for and she nailed the reading portions of her standardized test. The only thing I supplemented with was easy phonics readers for 10 minutes of reading every day.
Spelling: All About Spelling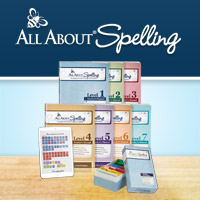 If you are interested in a more focused spelling curriculum, then I would absolutely recommend All About Spelling Level 1.
I usually wait until 2nd grade to start teaching this curriculum, but many parents choose to start in 1st grade.
How do you know when to start? If your child is ahead in reading, then I would recommend starting with formal spelling. But if your kid is struggling with reading, spelling will likely be very frustrating.
Either way, we love All About Spelling because it is a hands-on, out-of-the-box way to teach spelling – and there are no spelling tests! Woohoo!
Click here to check out my full review of All About Spelling.
Language Arts: Writing With Ease
This is a very gentle introduction to the basic skills of language arts that is perfect for young children!
Writing With Ease offers short and focused lesson plans, so they usually take about 10 minutes or less.
Every week a new piece of classic literature (Little House in the Big Woods, The Adventures of Pinnochio, etc.) is introduced with a short excerpt. My daughter is asked to copy one sentence from the story onto a worksheet and we focus on one aspect of writing (capitalization, abbreviations, punctuation, proper nouns, etc.).
Other days include oral lessons that focus on answering questions in a complete sentence, so the student will learn to write in complete sentences. Another benefit of these lessons is increased listening comprehension.
The curriculum builds on itself and includes review lessons to keep skills sharp.
It is also scheduled to be done 4 days a week, which is nice to keep our schedule flexible.
UPDATE: This curriculum is so deceivingly simple. At times I was afraid it was too simple, but my 1st grader really did learn a lot! I was shocked to see how well she did answering her standardized test questions, proving she did retain the information and it was enough. The only thing I would have done differently was add on a journal entry every day for a little more practice with writing and applying the skills learned.
Handwriting: Handwriting Without Tears "My Printing Book"
We have used "Handwriting Without Tears My First School Book" in previous years and found the book really delivers on the "no tears" part.
I am confident that My Printing Book will be a great addition to our 1st grade curriculum to make sure my daughter is writing at her best. Pages are cute, short, and fun – exactly what you need at this age!
The above language arts curriculum does have copy work – but the focus of that copy work is not to teach handwriting.
Handwriting is an important skill to master, and I think having a separate book to help teach and reinforce is a must for school work at the 1st grade level.
Math: Horizons Math
I did not love the math curriculum we did with my oldest child when she was in first grade, so I decided to try something new for 1st grade math with my middle child.
Horizons comes very highly recommended from a number of trusted homeschool friends and I am excited to try it!
It is a colorful workbook-based program that teaches math in a spiral progression (new concept taught every day with constant review).
It is known for being a solid, advanced, and well-organized program that will help kids easily master their first grade math skills.
UPDATE: I could not have loved this curriculum more! I was so very pleased with how the year worked out! You can read my full Horizons Math review here for more information on how the year went. If you are looking for something more manipulative based, I would recommend also looking at Saxon Math.
Literature/Read Aloud Books
Read aloud books are the heart of our homeschool!
We always start our day out with morning time and me reading from a chapter book. This is a really nice way to ease our way into the homeschool day and learning.
It teaches my kids so much about literature, the love of reading, vocabulary, and reading comprehension (when we talk about it afterward).
I encourage you to have a great book list (chapter and picture books) on hand and take advantage of your local library.
Need a place to start?
Check out "25 Books to Read Aloud to Your Kids and then Watch the Movie!"
My kids are usually much more engaged with a book when they know they will "meet" the characters of the book in a movie!
Bible: The Gospel Story Bible
This would actually be considered a core subject for our homeschool.
I love that homeschooling has afforded us so much more time to talk about spiritual things with our children!
We have been working through Gospel Story Bible for a while now, doing one story every morning. This book walks you through the Bible from beginning to end, one short story at a time.
I also really like that each story ends with a beautiful picture and 3 questions to help your child discuss and engage with the story.
Science: Noeo Science
Science is often the most fun for kids…but the least fun for adults.
It is all too easy to let the books collect dust because you forgot to buy the experiment materials, you don't want to deal with the mess, or you simply don't have the time.
That is why I swooned when I stumbled onto Noeo Science!
A complete year of science books, grade-level reading books, and science kits (with all the materials needed!) come in one box!
I personally love the no prep approach and no excuses to not enjoy teaching science to my kid!
For 1st grade homeschool curriculum choices, you can choose between Biology, Chemistry, or Physics.
Update: NOEO Science delivered everything and more! We did Biology (which includes Life Science topics) last year and we are doing Physics this year. Check out my full review of Biology here and my sneak peak of Physics. If you don't have the time or budget for a full blown science curriculum, definitely consider doing a nature study for your weekly lesson. Some time outside is more than enough for this age!
History: Early American History K-3 From Beautiful Feet Books
I am in love with the pack of living books Beautiful Feet has put together for this subject area!
History curriculum can be such a bore for kids, but when taught through rich read-alouds with a visable timeline – it changes everything!
I especially love that it works for a span of ages – even my 5th grader can join in!
Learn more at the Beautiful Feet Books website.
Art: Art For All Seasons
This fantastic art book was handed down to me by another homeschool mom and it has made my job so much easier.
It is full of the most adorable (and easy!) craft ideas and art projects for EVERY imaginable holiday or occasion. Even things like President's Day!
The templates for all the projects are included (just make as many photocopies as you need) and the rest of the needed supplies are pretty standard (construction paper, glue sticks, etc.)
I highly recommend this artbook to make your homeschool mom life easier, but also to give your kids the opportunity to make crafts they will be so proud of!
Music:
I did not grow up in a musical household, so teaching music has been a struggle for me as a homeschool mom.
Thankfully, I finally stumbled onto Music in our Homeschool and I am loving the online courses they offer!
Your kids can learn about patriotic music, seasonal music, folk music, music appreciation, music history, composers – there really is something for everybody and all ages.
We decided to go with "15 Minute Music Lessons." Full lessons, videos, printables, worksheets, and online videos are included.
It is the perfect mix for 1st grade music!
Maestro Classics
We also decided to add in a selection from Maestro Classics for our 1st grade music lessons this year and it was a big hit!
Maestro Classics is a CD/MP3 based music curriculum with a focus on storytelling to teach kids about classic music, such as Bach, Handel, and Tchaikovsky!
There are included age-appropriate activity sheets to support the curriculum.
For more information, check out my full Maestro Classics review.
P.E.
Most homeschool families tend to blow off P.E., but there is so much you can do at home!
It is also a great break in your day to squeeze in some activity and give your kid's brain a break!
No, you do not need to be a fitness expert. Just tell your child that P.E. is time to work on stretching and exercising muscles to keep them healthy.
If you feel comfortable doing so, you can teach your child basic stretches and exercises. Some parents may also like to check out Youtube exercise channels for kids.
Here are some fun exercise games you can also rotate through for variety:
Foreign Language: The Cultured Kid
A foreign language is definitely not mandatory for 1st grade curriculum, but some homeschool families want to get the ball rolling with this when their kids are younger and can pick up languages more easily.
The Cultured Kid offers Spanish, French, Mandarin, German, Italian, and English.
The short, fun computer based lessons are based on music, games, and activities!
If you're not really sure if this is something you want to add into your 1st grade curriculum mix, you can check out their lessons for just $1!
Recap 1st Grade Curriculum Picks
There you have it! All of my 1st-grade curriculum picks for Math, Language Arts, Handwriting, Reading, Literature, Science, History, Bible, Art, Music, P.E., and foreign language!
Remember to keep your focus in the early years on core subjects and have a lot of fun with the enrichment subjects.
This should only take 2-3 hours a day, including breaks.
Always keep your eye on encouraging a love of learning should be your foremost goal at this age!
Don't forget to throw in some fun field trips and you will have the perfect school year ahead of you!
Want to save all of this info for later? I know it's a lot! Be sure to pin it to your favorite Pinterest board and share with your friends and followers!
Read Next: